FALL RETREAT: October 24-27, 2019
Registration is closed.
Upcoming Retreats: Save the dates for our Winter Retreat, Jan. 23-26, 2020 at Spring Mill State Park and our Summer Retreat at McCormick's Creek State Park from June 11-14, 2020.
Fall Retreat Location: Clifty Inn, Clifty Falls State Park, Madison, Indiana

Why go to a quilting retreat? The reasons are endless, but any guild member who has been on a retreat will tell you that it's a delightful way to take a break from your daily life with concentrated time to work on your projects, have fun with friends new and old, and relax in a beautiful setting. Finish those UFOs, make a community quilt, or learn a new technique from one of our many talented members. It's all possible at a BQG retreat!

MEMBERSHIP: You must have paid member dues for the 2019–2020 guild year to attend this retreat. Add "Membership" to your shopping cart.
COST: Thursday - Sunday: Single: $436 Double: $331 Triple: $301 Quad: $280
Friday - Sunday: Single: $296 Double: $226 Triple: $206 Quad: $192
INCLUDES: For Friday-Sunday, cost includes six meals at the inn from dinner on Friday through lunch on Sunday. For Thursday arrivals, cost includes nine meals from Thursday dinner through lunch on Sunday. Check-in is 4:00 pm. The sewing room is available by 10:00 am on Thursday, and the retreat ends by 5:00 pm on Sunday. (Note that Sunday check-out is at 11:00 am.) There is a $7 per car gate fee upon entrance to the park for Indiana residents and $9 for other states. (An annual state park pass works as well.) After check‐in, your room key will get you back in the park without additional charge. Your key should be shown for your meals at the inn restaurant.
SPLIT REGISTRATION: If you would like to register for Thursday separately (say, if you're attending Thursday, but your roommate(s) are not coming until Friday), please download Mail-in Registration (PDF). It breaks out the pricing.
REGISTRATION: Closed. Register by Mail (PDF) is available here for informational use only.
CANCELLATION: Refunds partly depend on our ability to refill the room.
QUESTIONS? If you want to find a roommate, want to carpool, or have another question, please contact: Carol Evans: 317-272-4634 or Jo Ann Sporleder (317) 332-5935
Email: fallretreat@bloomingtonquiltersguild.org.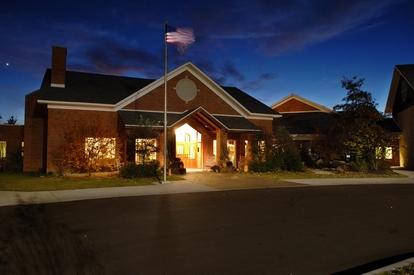 Clifty Inn, Clifty Falls State Park, Madison, Indiana